【威力導演 16 旗艦版】 CyberLink PowerDirector Ultimate v16.0.2101.0(支援360°影片剪輯)
在YouTube上發佈全球最受歡迎的視訊部落格網站,並與所有人分享您的電影。
訊連科技威力導演進階寬屏和高清晰度支援,強大的技術,創意效果,音軌庫和魔法編輯工具使建立視訊變得快速和輕鬆。
6種魔術工具,消除繁瑣的編輯任務,同時留出時間騰出所有的樂趣和興奮的酷實驗的試驗:
編輯電影與酷炫的模板結合的效果,過渡和切割風格與魔術風格,穩定搖搖欲墜的視訊和重新聚焦照片與魔術修復
使用Magic Clean調整白平衡,使用Magic Motion在幻燈片放映和縮放之間進行選取
使用Magic Cut自動智慧剪下視訊到音樂曲目的長度,從Magic Music音樂庫中為DVD選單加入背景音訊。
改進的標題設計師,新的過渡,效果和模板使更多的創造力,一個改進的標題設計師容許多層次的標題序列
並內含內建的框架組織成流行的主題,幾乎兩倍的視訊效果,新的轉換和DVD創作模板提供豐富設計資料庫寬屏(16:9)支援容許高清電視的視訊輸出
支援原生16:9寬高比,支援寬屏內容的採集到輸出視訊製作,4:3和16:9視訊之間的轉換可讓使用者長寬比進入一個視訊。
支援高清視訊支援高質量的電影製作,支援高清視訊內容,在拍攝,編輯和燒錄過程中保持視訊質量。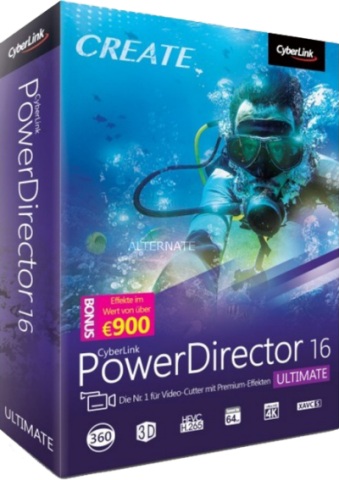 以MPEG-4 AVC格式(俗稱為H.264)輸出影片,並使用iTunes將您的檔案上傳到您的Apple iPod。或通過Windows資源管理器複製到您的索尼PSP。
「訊連科技PowerDirector」的一些主要功能如下:
– 6軌道的畫中畫效果 – 建立令人印象深刻的動畫,色度鍵效果和遮罩,最多6軌的畫中畫對象。從我們的PiP圖形庫中選取,或是匯入一張照片來建立您自己的動畫疊加層。
– 進階關鍵幀效果 – 通過設定效果和對像動畫的關鍵幀設計獨特的動畫。
– 視訊凍結幀 – 建立戲劇性的鏡頭,突出視訊中的人物,物體和時刻。直接在螢幕上加入文字或動畫你的鏡頭,以加強情感更。
– 光碟選單設計師 – 把你的光碟製作提升到一個新的高度。內含選單導航,可以選取播放所有場景或進行場景選取。您可以搬移按鈕,包括動畫章節縮略圖,甚至匯入圖像作為背景。
您建立的設計可以上傳到DirectorZone以與其他創作者共享
– Pro-like字幕 – 通過匯入txt或srt檔案或手動輸入字幕室加入視訊字幕。您可以直接在視訊上加入字幕,使其看起來像字幕,或是將它們設定為輸出DVD上的可選功能。
– 時間碼和日期戳 – 將您的時間碼和日期戳記轉換為視訊中的字幕(需要DV或HDV攝像頭才能支援此功能)。
與捕捉過程中儲存的時間碼不同,PowerDirector容許您在最終製作之前隨時禁用(隱藏)時間碼字幕。
也支援顯示照片的EXIF訊息。
– 可調整的工作空間 – 改變你的工作空間,以適應你的工作風格。拖曳媒體庫,時間軸和預覽視窗,為您建立更多空間。
– 更好的媒體管理 – 調整您訪問照片,視訊和效果的模式以適應您的工作風格。通過建立新的子資料夾排序和存儲照片和視訊來整理媒體。
儲存您的庫供將來使用,或為您的新項目加載現有的庫
·輕鬆分類媒體資源 – 按名稱,持續時間,檔案大小,日期或類型顯示項目內容。檢視檔案的詳細訊息,而不是縮略圖。
– 更快的響應時間 – 享受更高的生產力。你會發現匯入照片和視訊,並訪問效果庫和DVD選單模板,現在比以往更快。
– 高清視訊 – 原生支援高清內容,確保始終如一的卓越效果。匯入或採集,編輯和製作AVCHD,MPEG-2 HD和WMV-HD視訊。
– 從任何地方捕捉 – 威力導演支援各種內容源,內含HDV攝影機,電視調諧卡,藍光光碟,DVD,網路攝影機,CD等。
– 藍光光碟和DVD – 製作光碟是儲存家庭電影的最佳模式之一;現在您也可以存儲高清AVCHD內容。對藍光光碟的支援可以為您的高清視訊提供更高的容量。
「威力導演」通過其內建的藍光光碟和DVD製作工具為您的光碟加入了最終的親觸感。
【威力導演 16 旗艦版】 CyberLink PowerDirector Ultimate v16 官方網址:
https://www.cyberlink.com/downloads/trials/index_en_US.html
Publish to YouTube the world's most popular video blogging website and share your movies with everyone. CyberLink PowerDirector advanced widescreen and high-definition support, powerful technologies, creative effects, soundtrack libraries, and magic editing tools make creating videos fast and easy.
6 Magic Tools eliminate the tedious editing tasks while leaving time to spare for all the fun and excitement of experimenting with cool effects: Edit movies with cool templates combining effects, transitions, and cutting styles with Magic Style, Stabilize shaky video and refocus photos with Magic Fix, adjust white balance with Magic Clean, choose between slideshow pans and zooms with Magic Motion, automatically and intelligently cut videos to the length of music tracks with Magic Cut, add background audio to your DVD menus from your Magic Music library.
Improved title designer, new transitions, effects and templates enable more creativity, an improved title designer allows multilayered title sequences and includes built-in frames organized into popular themes, almost double the number of video effects, new transitions and DVD authoring templates offer a rich library of designs Widescreen (16:9) Support Allows Video Output for HDTVs, support for native 16:9 aspect ratio enables capture-to-output video production of widescreen content, conversion between 4:3 and 16:9 video lets users combine both aspect ratios into the one video.
Support for HD Video Enables Creation of Movies of Exceptional Quality, support for high definition video content preserves the quality of video while capturing, editing and burning.Output your movie as MPEG-4 AVC, commonly known as H.264, and use iTunes to upload your file to your Apple iPod. Or copy to your Sony PSP via Windows Explorer.
Here are some key features of "CyberLink PowerDirector":
– 6-track PiP effects – Create impressive animations, chroma-key effects, and masks, with up to 6 tracks of picture-in-picture objects. Select from our library of PiP graphics, or import a photo to create your own animated overlays.
– Advanced key-frame effects – Design unique animations by setting the key frames for effects and object animations.
– Video freeze frame – Create dramatic shots to highlight people, objects and moments in your videos. Add text directly on the screen or animate your shot to intensify the emotion even more.
– Disc menu designer – Take your disc production to a new level of sophistication. Include menu navigation that gives the option to play all scenes or make a scene selection. You can move buttons, include animated chapter thumbnails, even import images as backgrounds. The designs you create can be uploaded to DirectorZone to be shared with other creators
– Pro-like subtitles – Add video subtitles by importing txt or srt files, or manually typing in the Subtitle Room. You can imprint subtitles directly on your video to appear like captions, or set them as a selectable feature on your output DVDs.
– Time code and date stamp – Turn your time code and date stamp into a subtitle on your video (requires DV or HDV camera to support this feature). Different from time codes saved during the capturing process, PowerDirector allows you to disable (hide) your time code subtitle at any time before final production. Supports the display of EXIF information for photos too.
– Resizable Workspace – Change your workspace to suit your working style. Drag on your media libraries, the timeline, and preview window to give you more space to create.
– Better media management – Adapt the way you access photos, videos, and effects to your working style. Organize your media by creating new subfolders to sort and store photos and videos. Save your library for future use, or load an existing one for your new project
· Easy sorting of media resources – Display your project content by name, duration, file size, date or type. View the details of your files, instead of thumbnails.
– Faster response times – Enjoy being more productive. You'll find importing photos and videos, and accessing effects libraries and DVD menu templates, is now quicker than ever.
– High-definition videos – Native support for high-definition content ensures exceptional results from beginning to end. Import or capture, edit and produce, video in AVCHD, MPEG-2 HD and WMV-HD.
– Capture from anywhere – PowerDirector supports all kinds of content sources, including HDV camcorders, TV tuner cards, Blu-ray Discs, DVDs, webcams, CDs, and more.
– Blu-ray Discs and DVDs – Authoring discs is one of the best ways to preserve your home movies; now you can store high-definition AVCHD content too. Support for Blu-ray Discs gives you even greater capacity for your high-definition videos. PowerDirector adds the final pro touch to your discs with its built-in authoring tools for Blu-ray Discs and DVDs.
– Direct publishing to YouTube – Get your movies online fast with direct uploading to YouTube. With easy steps you can name and tag your video so you are easily found by millions of viewers online.
– Output for iPod, iPhone or PSP – Produce movies that you can watch everywhere via iPod, iPhone or PSP. Output files are optimized in a size and resolution that plays best for each device.
– Writing back to HDV and DV tape – Camcorders don't just record, they are an extremely convenient way to connect to a TV, PC monitor, or projector, so you can show your movie to others. PowerDirector lets you write your finished movie directly back to your camcorder.
– 7 styles – 3D, highlight, motion, cell, collage, scrapbook and normal offer cool ways to turn photos into a movie. PowerDirector's 3D engine creates a classic 3D room-like effect. You'll be amazed at how stunning photo slideshows can be.
– Editable slideshows – Change the order and position of individual photos with the cell slideshow style.
– Beat-detection technology – Automatically sync your photos to display to the beat of your music. Change the music and you instantly change the mood of your slideshow.
– 4 effects libraries – Explore your creativity by working with hundreds of transitions, effects, titles, and objects that are all available within PowerDirector's built-in libraries. Together with what's available for free on DirectorZone, you have all you need to turn your video clips and photos into movie masterpieces.
– Audio recording and mixing – Creating pro-like soundtracks for your videos is extremely easy with built-in tools for recording voice-overs and other sounds